Core identity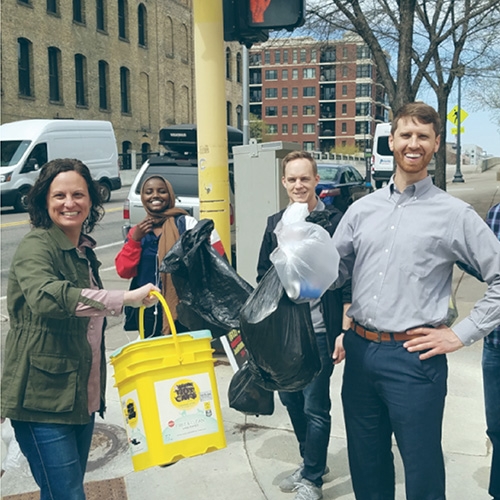 Vision
We seek a healthy, carbon-neutral economy that works for all people.
Mission
To discover and deploy the most effective energy solutions that strengthen the economy and improve the environment.
Spotlight: Living our values 
2021 by the numbers
56 million
kWh saved of electricity
55 million
pounds of CO2 saved
Our communities 
8,400
homes and businesses served
63
cities and neighborhoods partners
All told, we served more than 8,400 homes and businesses.
A total of 38 Midwest cities and 25 Twin Cities neighborhoods partnered with CEE's lending program, Home Energy Squad, Partners in Energy, Save to Give, or the Kalamazoo Energy Collaborative.
Residential programs
6,600
Minnesota homes visited
1,100
Energy Advisor calls
Embracing strict health and safety protocols, we visited more than 6,600 homes and helped save energy totaling about 2.5 gigawatt hours and 17,000 dekatherms.
More than 1,100 Minnesotans called on CEE's free Energy Advisor service to complete energy efficiency projects and earn rebates.
In partnership with Minnesota Energy Resources, the Authorized Insulation Contractors Program completed 26 on-site quality assurance inspections in 2021.
CEE's New Homes program assessed a variety of energy ratings (HERS, ENERGY STAR, Zero Energy Ready Homes, etc.) for 119 single-family homes and 13 multifamily buildings, and certified five affordable housing projects.
Spotlight: Technical expertise
Commercial and industrial programs
2,100
lighting and HVAC projects
$7.3
million in utility rebates
20
large building projects
One-Stop Efficiency Shop completed more than 2,100 lighting and HVAC improvement projects, leading to the conservation of 12.8 megawatts and more than 53 gigawatt hours of energy.
To drive those projects, One-Stop also helped local businesses leverage $7.3 million in utility rebates toward upgrades to achieve an estimated $5.1 million in annual savings.
Xcel Energy's Commercial Refrigeration Efficiency program, delivered by CEE, disbursed $25,000 in rebates and helped 70 businesses upgrade equipment for first-year savings of over 500,000 kilowatt-hours.
CEE's building engineers managed nearly 20 large building projects, from ventilation analysis to new construction and commissioning, to address a variety of unique energy management needs.
Spotlight: Supportive legislature
Technical research
$2.4
million in MN CARD funding
30
active research projects
Minnesota Department of Commerce granted $2.4 million in Conservation Applied Research and Development (CARD) funding for 10 multiyear projects that CEE will either lead or participate in.
In 2021, CEE led or participated in 30 active research projects in collaboration with 22 research partners in Minnesota and around the country.
CEE's energy professionals participated in or presented at 32 energy conferences and community gatherings, most virtually, based throughout the upper Midwest and nationwide.
Spotlight: Finding solutions
Lending
$22.7
million in lending capital
145
residential solar loans
1,308
kW of clean energy installed
CEE's lending team issued more than $22.7 million in lending capital through nearly 1,200 homes and business improvements in Minnesota.
We issued 145 residential solar loans totaling $3.5 million, leading to the installation of 1,308 kilowatts of clean energy. By comparison, in 2019 we issued 89 loans for $2.4 million. 
Spotlight: Energy planning
Knowledge-sharing
3,553
newsletter subscribers
149,561
unique website visitors
9,819
social media followers
We produced or cross-published 44 earned media articles, 12 news releases, and 3 public statements on social or policy issues.
We served 3,553 subscribers through our monthly newsletters as well as industry emails with content for energy contractors, building operations, community energy planning, and more.
Our websites hosted 149,561 unique visitors who viewed 303,772 web pages. And we shared updates and insights with 9,819 followers on Facebook, Twitter, and LinkedIn.
Leadership
Tom Garry, Chairperson 
Amanda Novak, Vice Chair 
Nancy Tyra-Lukens, Treasurer 
LisaBeth Barajas 
Ralph Dickinson 
Julia Donaldson 
Jimmy Loyd 
Non-voting Officers of the Corporation 
Chris Duffrin, President 
Stephanie Haddad, Corporate Secretary
Shonda Biddle, Director of Commercial and Industrial Energy Development 
Dave Bohac, PE, Senior Director of Research 
Chris Duffrin, President 
Kristen Funk, Senior Director of Commercial and Industrial Energy 
Cindy Greenwood, Director of Human Resources 
Stephanie Haddad, Chief Operating Officer 
Mark Hancock, PE, Director of Engineering 
Tim Hanrahan, Director of Communications 
Jim Hasnik, Director of Lending Services 
Carl Nelson, Senior Director of Program Development 
Rebecca Olson, Senior Director of Residential and Community Energy 
Tom Spielman, Director of Information Technologies 
Judy Thommes, Director of Operations  
Meranda Wacek, Chief Financial Officer