We help small to midsize Minnesota businesses reduce operating costs.
$5.3 million
in rebates awarded in 2022
20,000 +
businesses served since 2000
Project support from start to finish.
Receive a free, no-obligation lighting assessment.
We start by evaluating and making an inventory of your lights to understand the unique needs of your building. As a nonprofit focused on energy efficiency, our top priority is helping you reduce operating costs and earn rebates, not selling LED lighting. 
Review your options for making cost-effective lighting upgrades.
We provide all the information you need to make the smartest choice for your business, including a lighting inventory, recommended upgrades, and estimated savings, rebates, and payback periods.
Make energy efficient upgrades tailored to your needs, guided by your lighting consultant.
Your lighting consultant will serve as an unbiased liaison between you and your contractor, provide access to low-interest financing, and ensure the proper equipment is installed.
Relax and enjoy your new lights. We'll take care of the rebate paperwork.
We'll complete and submit all rebate paperwork so your rebate arrives as quickly as possible (currently covering up to 75% of project costs).
More information about the program.
Xcel Energy commercial electric customers in Minnesota with a peak demand of up to 400 kilowatts. Contact us at 612-244-2427 to confirm eligibility.
Our lighting consultants can guide you through many types of lighting retrofits that reduce energy and maintenance costs, increase equipment life, improve aesthetics, and create a safe, comfortable working environment at your facility including:
Replacing screw-in bulbs and fluorescent tubes with LEDs
Retrofitting lighting in parking lots and common areas with LEDs
Installing daylight controls and automatic dimmers in low traffic areas
Reducing the number of fixtures needed to maintain or increase brightness
Retrofitting interior lighting with LEDs to provide consistent brightness and color
Any business or nonprofit can benefit from lighting upgrades. Businesses with long operating hours such as retailers, restaurants, hotels, banks, parking ramps, office buildings, bowling alleys, car dealerships, manufacturers, warehouses, and nursing homes will see the largest energy savings from upgrading to energy efficient LED lighting.
We are a nonprofit organization that doesn't sell or install lighting products. The One-Stop Efficiency Shop, sponsored by Xcel Energy, offers free consulting services and lighting rebates to help businesses save money and energy through cost-effective lighting upgrades. 
Yes, we will work with any contractor or electrician. Our lighting consultants can also help you find and review bids from qualified contractors.
No, buying new fixtures isn't necessarily required to upgrade to LED lighting. In many cases, the existing fixtures can be retained while only lamps are upgraded. Our lighting consultants specialize in helping you find solutions tailored to your building and budget.
Several grants are available to help Minnesota businesses and nonprofits pay for LED lighting upgrades. Contact us at onestop@mncee.org to find out if your organization qualifies for the opportunities below. 
Minneapolis Green Cost Share Program 
CEE partners with the City of Minneapolis to offer grants for lighting, HVAC, and refrigeration upgrades for businesses and nonprofits in Minneapolis 
Funding amounts = 20% - 40% of the cost (up to $10,000) on top of rebates 
CEE Grants and Loans for Minneapolis Neighborhoods 
CEE partners with several Minneapolis neighborhood associations to offer commercial grants (up to $3,000) and loans with rates starting at 1% (up to $10,000) 
Edina Community Climate Action Fund
Available to Edina Commercial and industrial private properties or multifamily (5+ units)
50% utility rebate match (up to $2,000) for businesses upgrading to efficient lighting
Richfield Energy Efficiency Grants 
Available to Richfield businesses and nonprofits participating in the One-Stop Efficiency Shop or Xcel Energy Commercial Refrigeration programs 

Funding amounts = 20% of total project costs (up to $2,500) on top of rebates 
St. Louis Park Climate Champions Cost Share Program 
Available to St. Louis Park businesses and nonprofits 

Participants must complete an Energy Smart and One-Stop assessment within 36 months of project start date 

Funding amounts = 50% - 75% utility rebate match (up to $2,500 or $3,500) 
Energy Smart Grants for Businesses 
Available to Xcel Energy and CenterPoint Energy for-profit commercial and industrial customers 

Funding amounts = 50% - 100% lighting rebate match (up to $3,000 to $10,000) 

Contact onestop@mncee.org to learn more 
EnerChange Grants for Nonprofits 
Available to Xcel Energy and CenterPoint Energy nonprofit customers 

Funding amounts = 50% match of lighting project utility rebates (up to $2,500) 

Contact onestop@mncee.org to learn more 
Loan programs to help you reach your energy goals.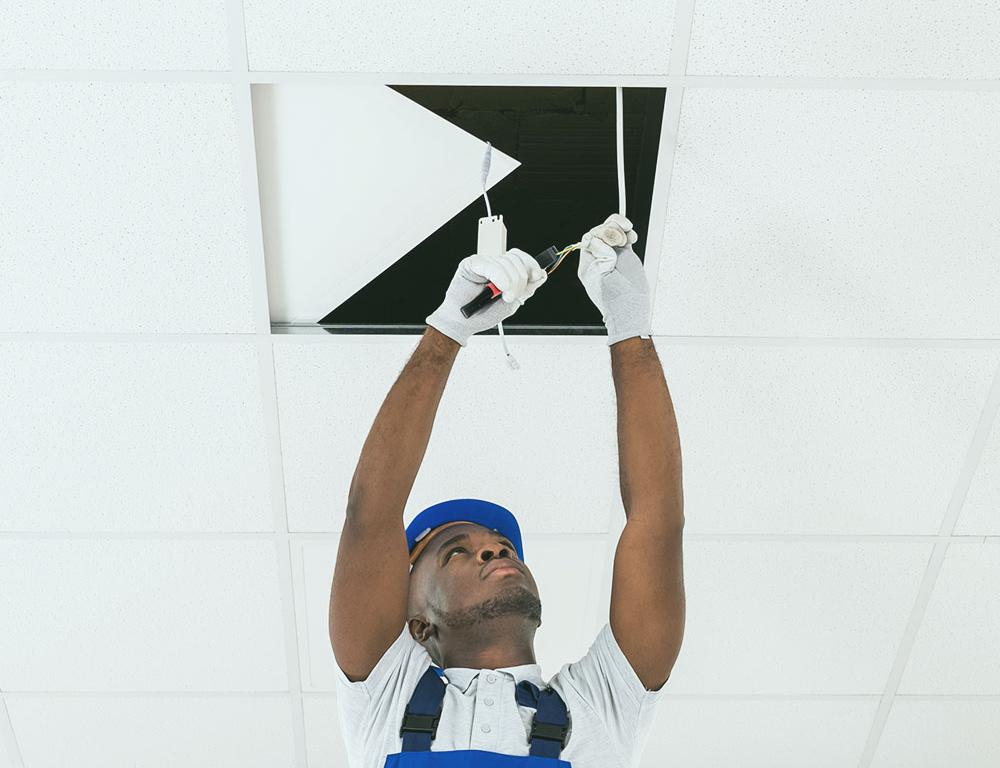 Resources for contractor partners.
Contractor partnerships have been vital to our success over the past 20 years. We support contractors with unbiased lighting expertise, customer referrals, and completion of rebate paperwork.