The Sunnovations Aquanta smart water heater controller is a retrofit device for most residential and small commercial storage water heaters. It can be installed on existing water heaters to monitor and control hot water energy use from a smart device or home networking platform. The project will determine the full field performance and energy savings potential of the Aquanta to determine the possibility for inclusion in utility energy savings programs.
Project Process and Expected Outcomes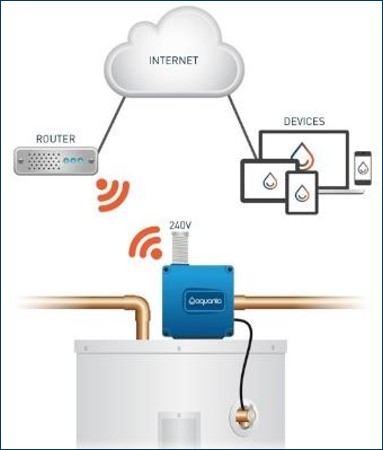 This study aims to validate the field performance, cost-effectiveness, direct energy savings, and demand-side management capabilities of the Sunnovations Aquanta smart water heater controller. The Aquanta system is designed to be self-installed and is compatible with both electric water heaters and gas water heaters with electronic gas-control valves. Additional features include:
The ability to track and learn from hot-water usage patterns.
The ability to implement a water-heating schedule to prevent standby firings during non-use periods.
Remote on and off capabilities via a smartphone application.
Messaging alerts on water heater activity including water heater leak detection and maintenance scheduling reminders.
CEE researchers will facilitate a pilot study of 50 field installations and then conduct a full field evaluation of 10 sites to validate the technology's ability to accurately monitor daily water and energy usage. 

Research objectives include validating the installation procedure, the reliability of the technology, and its data output; establishing a baseline for energy use and water usage; measuring the energy savings and impact on subjective experience of the end-users; evaluating the cost effectiveness of the technology; and quantifying the potential utility demand-side management applications.

The expected outcome of the field study is the validation of the water heater controller as an effective measure within Minnesota's Technical Reference Manual and as a candidate for program rollout as an efficiency and demand side management resource. 
Project Summary
Objective
To validate the field performance and energy savings of the Aquanta smart water heater controller, as well as both energy and non-energy related benefits. 
Scope
Pilot study of 50 retrofitted water heaters with a 50/50 split between electric and gas water heating, and a full field assessment of 10 water heaters to determine energy and water usage
Non-energy benefits
A smartphone application associated with the Aquanta smart water heater controller could provide users with the ability to control their water heater usage remotely and receive message alerts on water heater activity including maintenance reminders and leak detection.
Related Reports & Resources