Would you save energy at home if it earned donations for a local nonprofit?
This was the question that the Save to Give Challenge pilot program explored in 2021 and 2022 with four rural Wisconsin communities: Bayfield County, the City of Lodi, the Village of Mount Horeb, and the City of New Richmond. The Save to Give Challenge, funded by Focus on Energy and implemented by CEE, gave each community the opportunity to raise up to $25,000 for local charities when residents took energy-saving actions and recorded those actions online. Easy actions like turning off unused lights and electronics, programming thermostats, and ordering a free pack of LED lightbulbs earned donations that could add up to over $100 per participant during donation campaigns held over two or three months.
Because rural Wisconsinites participate in energy efficiency programs at a lower rate than their urban counterparts, the goal of the pilot was to identify behavioral strategies that leverage the strong sense of local pride in rural communities. To motivate energy saving, CEE teamed up with local city leaders and nonprofits to tailor the program design to each community and rally residents around earning donations for local nonprofits.
After two years, these are some of the lessons we learned.
Community pride is key to resident participation
Lodi, New Richmond, and Mount Horeb were all communities with a strong community identity, and their participation and donations reflected this. Each community had between 8% and 17% of all eligible households participate, a high proportion compared to many other energy efficiency programs. The communities earned between $9,800 and $14,300 for their local nonprofits. Once residents heard about Save to Give from nonprofit leaders, their neighbors, or CEE staff at events, it was often their sense of pride for their hometown that motivated them to sign up. "The 2022 Save to Give Challenge tested our Mount Horeb neighbors, and they showed up for their community AND the future of our planet," said Destinee Udelhoven, executive director of the Mount Horeb Area Historical Society, which participated in Save to Give.
In contrast, Bayfield County's large geographic area complicated a shared community identity. This made it more challenging to inspire participation.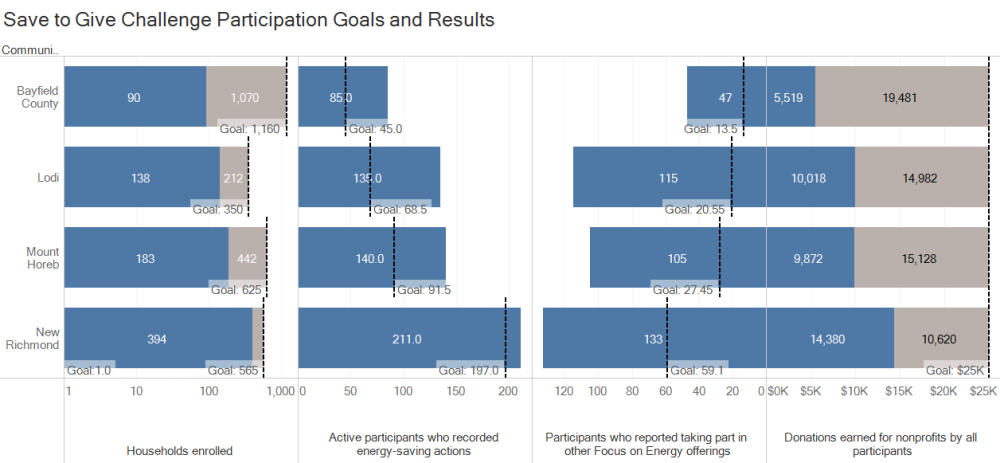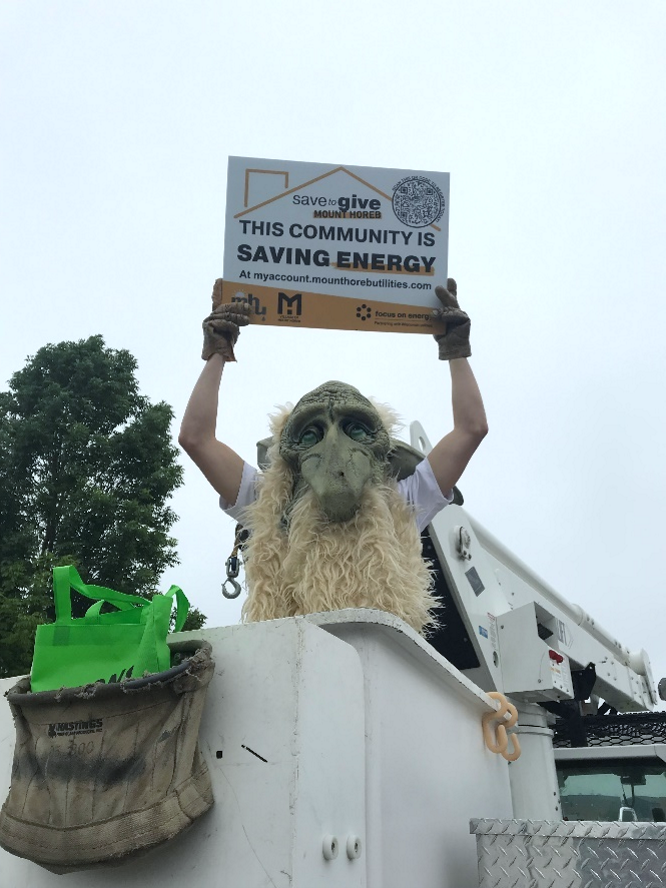 Good partners make the difference
Responses to the program's participant surveys showed that in all four communities, the opportunity to support a local nonprofit was the primary reason for participation. Food shelves were effective nonprofits to partner with because of their visibility, reputation, and high level of support in the communities. In New Richmond, Mount Horeb, and Lodi the local food shelves had the largest number of Save to Give participants sign up to support them. Nonprofits serving schools and youth programs also garnered high levels of support.
In addition to the benefiting nonprofits, libraries, schools, and chambers of commerce were highly effective and trusted partners in spreading awareness of the program, thanks to their wide audiences and reputations as places for learning, information, and hosting local events. These community connections gave CEE staff the opportunity to engage residents in diverse places, such as classrooms, football games, libraries, breweries, and city council meetings, among others.
In-person outreach is effective
Nonprofit leaders, City and utility staff, and CEE staff conducted hundreds of hours of community engagement over the two phases of the pilot. Engagement from leaders who are trusted messengers proved to be vitally important. Rachel Sauvola, who is the New Richmond High School agriculture teacher and founder of the school district's SOAR Center Student Farm, a participating nonprofit, said, "Doing tabling events with Matthew and Brady [CEE staff], Jean and Teresa [other local nonprofit directors], and my students allowed us all to interact with supportive people who were excited to raise money for their favorite causes in such an easy way."
In 2022 alone, CEE staff attended 67 community events and door knocked over 18 evenings, signing up 340 participants in person and creating a strong presence for Save to Give in the community. This compares to 2021 when outreach was mostly virtual due to the Covid-19 pandemic. CEE staff and local partners managed to promote Save to Give at 54 mostly virtual webinars and events, but the overall results were less impactful with Lodi achieving 138 participants in 2021 compared to New Richmond's 394 participants in 2022, as an example. This natural experiment provided evidence that especially in rural communities, an in-person presence was critical to build awareness, trust, and participation.
The Save to Give model promotes positive relationships and energy savings
The fun, community-focused nature of the Save to Give Challenge led to positive interactions between residents and their local utilities. In all four pilot communities, 60% to 80% of participants reported that their opinion of their local electric utility was more favorable after participating in Save to Give than before. Survey results also showed that awareness of Focus on Energy increased dramatically among Save to Give participants, many of whom had not previously heard of the statewide energy efficiency resource provider. Beyond awareness, Save to Give also drove participation in other Focus on Energy programs. For example, in New Richmond and Mount Horeb, over 35% of active participants ordered a free energy-saving pack from Focus on Energy after signing up for the Save to Give Challenge.
Finally, an evaluation of the first year of the pilot showed that participants saved 2.2% and 2.7% in electricity usage in the City of Lodi and Bayfield County, respectively. Given the relatively small number of participants, the savings are not deemed statistically significant. Results from year two of the pilot should be available toward the end of 2023.
In conclusion, the answer is yes!
We now know that the answer to the question, "Would you save energy at home if it earned donations for a local nonprofit?" is yes for hundreds of rural Wisconsin community members. By conducting community-focused outreach in partnership with trusted, local leaders, the Save to Give Challenge tapped into the strong sense of community pride that motivated participants to join the pilot and save energy at home to support a well-known local nonprofit.
For a full accounting of the Save to Give Challenge Pilot results see: