Recent work with heat pump technology has yielded options that are high in efficiency, but also high in cost, like ground source heat pumps (GSHPs), which require a geothermal well. An alternative heat pump technology — the air-to-water heat pump (AWHP), a new variant of an air source heat pump (ASHP) — uses electricity to move heat from outdoor air into indoor water. These systems are compatible with radiant heating, domestic hot water, and forced-air distribution. They offer the potential flexibility and higher efficiency of GSHPs at lower costs that are comparable to air source heat pumps.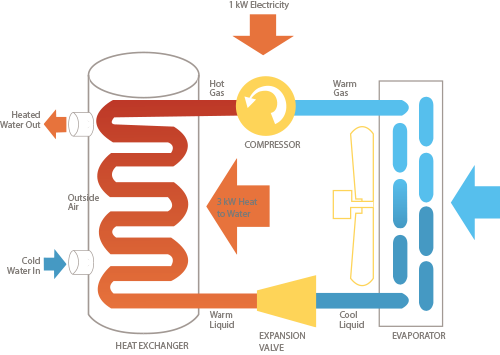 Project Summary
Objective
Characterize heat pump water heaters' capacity to reduce space heating energy use in Minnesota single-family homes with electric water heaters.
Scope
Engineering calculations will determine potential impacts of several different unit installation configurations. It will also review existing field studies on residential water usage and heat pump water heater performance, then apply the findings and concepts to Minnesota's housing stock, water use patterns, and climate.
Non-energy benefits
Partner with electric providers to provide information about potential energy impact and available rebates.
Develop tools to guide decision-making about water heater performance, including online calculators for rebate programs and homeowners.