Project Background
The Center for Energy and Environment has significant experience reducing energy use and improving indoor air quality in indoor ice arenas. Our work in arenas began in the early 90's at the same time that the state of Minnesota offered "Mighty Ducks grants" to help local governments construct ice arenas. CEE recognized an opportunity to ensure that the new and existing arenas in Minnesota were energy efficient, beginning with field research and energy modeling to determine the impact of desiccant dehumidifiers. Summer humidity causes fogging and ceiling condensation that can rust ice arena ceilings and even form stalagmites on the ice sheets. Desiccant dehumidifiers are one solution.

In 1995, the Legislative Commission on Minnesota Resources (LCMR) funded CEE's study "Energy Improvements in Public Ice Arenas."  This was the start of our full-scale application of expertise in both HVAC systems and commercial/industrial refrigeration systems to improve the energy efficiency and air quality in Minnesota's ice arenas. CEE first surveyed arenas throughout the state of Minnesota to determine typical characteristics of arena energy systems and operation and to assess interest in efficiency improvements. CEE researchers then used the results to select participants and performed audits of 28 arenas.
At that time, many managers and owners did not want to invest in equipment or design elements exclusively to save energy. However, many improvements offered non-energy benefits including reduced condensation, cutting down on carbon monoxide and NOX fumes from propane-fueled equipment, improved ventilation, and reduced wear on refrigeration equipment. Some of the best opportunities to reduce energy use are low-e reflective ceilings, refrigeration controls, demineralized flood water treatment, and refrigeration system heat reclaim. Because each arena had its own design and energy concerns, CEE performed site-specific engineering analyses to inform their recommendations.  We also offered matching grants to make cost-effective energy improvements, and helped implement $575,000 of energy efficiency and indoor air quality improvements in 16 arenas.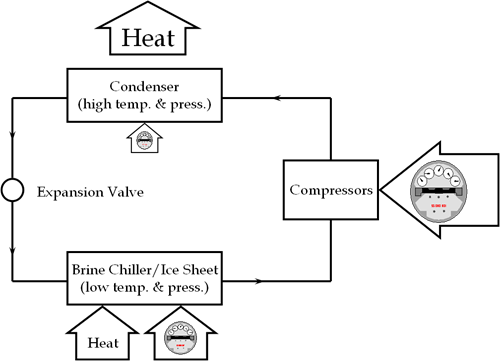 In 1999, CEE began a continuation of the project, extending energy audits and technical assistance to 15 more arenas. The energy reports were more detailed than those of the previous phase, and implementation efforts included detailed work scopes for improvements. On-site monitoring of several arenas verified savings and provided performance insights for a limited number of energy and IAQ improvements. CEE compiled case studies from the first phase and used several of the locations as demonstration sites. CEE also partnered with Minnesota Ice Arenas Managers Association (MIAMA) to promote energy efficiency and air quality improvements to arena managers, city officials, and designers. Dissemination channels included fliers, presentations, and articles to promote the new technologies.
CEE continues to provide engineering studies, recommissioning, and other services for a number of arenas in response to requests from customers and referrals. We've found that while low-emissivity ceilings and refrigeration system heat recovery often continue to provide large enough savings potential to justify the significant capital costs, we also continue to see significant savings opportunities related to low-cost changes like better control of desiccant dehumidification systems and refrigeration systems.
Related Reports and Tools