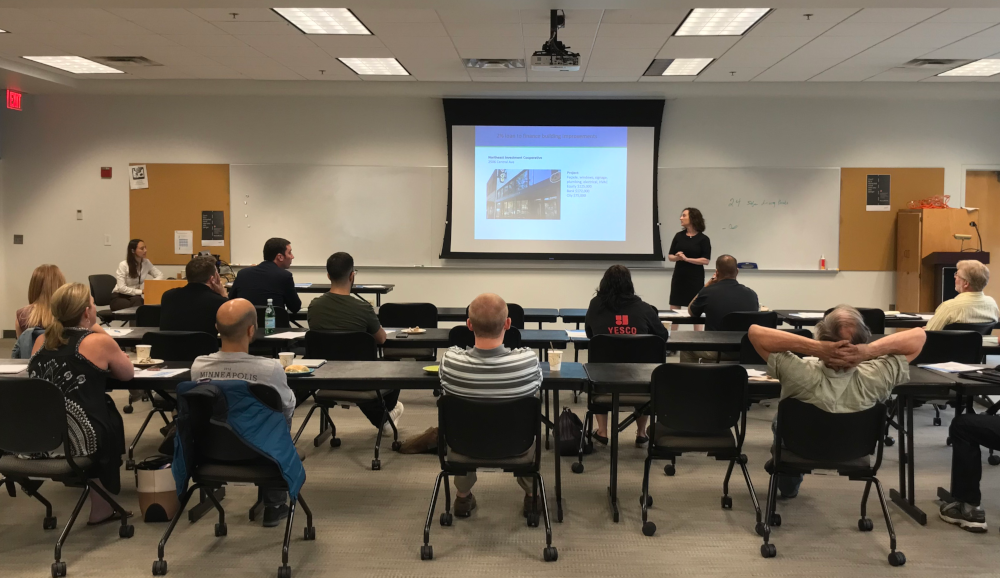 Our tailored workshops offer comprehensive support to create and launch successful energy disclosure policies.
In partnership with city officials, CEE provides best practices and technical guidance during policy design, stakeholder engagement, and home inspector training, with ongoing support for collaboration and evaluation.
Our Experience

Why home energy disclosure?
Energy disclosure helps improve a city's housing stock by spurring private investments in energy efficiency upgrades. Without it, energy improvements are often undisclosed when buying and selling a home, making it harder for homeowners to recoup the value of those investments at sale time. But with energy disclosure policies in place, homeowners are more likely to be rewarded for investing in and highlighting energy efficiency improvements.
The City of Minneapolis launched its energy disclosure policy in 2020. Since then, the number of Minneapolis homes receiving energy information has increased more than five-fold compared to when only voluntary energy audit programs were available.
How CEE can help
CEE's team works with city officials to create and launch successful energy disclosure policies by offering a workshop-based planning process and ongoing operations support. For cities of all sizes, we:
Provide best practices and technical guidance during policy design.
Plan and facilitate stakeholder engagement.
Train and support home inspectors to gather energy data.
Process energy data from inspections into public reports.
Facilitate score transparency through websites and interactive maps.
Support consumer awareness through content creation and outreach efforts.
Collaborate with real estate associations to build energy disclosure visibility in the local market.
Evaluate energy data for quality assurance and program metrics.
Favorable conditions for a city to pursue energy disclosure
Existing city climate or energy goals.
Required time-of-sale inspection - Adding energy efficiency considerations to an existing process is the most cost-effective way to implement energy disclosure on a large scale.
Older building stock - Energy efficiency retrofits result in the biggest energy savings for the least cost when applied in buildings built before 1980.
We've already helped two of Minnesota's biggest cities.
The City of Minneapolis launched their Truth in Sale of Housing Energy Disclosure policy in January 2020. In short order, more than 5,000 homes each year now receive an Energy Disclosure Report. And the City of Bloomington launched their Time-of-Sale Energy Disclosure ordinance in April 2022, with more than 1,500 homes per year projected to receive an Energy Disclosure Report. Visit the program's website for homeowners and real estate agents.