This post originally appeared as a guest blog for Clean Energy Economy Minnesota (CEEM). You can also check out CEEM's video about the Red Lake Band's solar project. 
---
There are many ways one can "live the good life," but for many, it starts with a comfortable home. Leadership of the Red Lake Band of Chippewa Indians were looking not only for comfort when commissioning the Mino-bimaadiziwin apartment complex, but also for housing that encompasses the tribe's heritage of sustainability and togetherness. In partnership with Loeffler Construction and Consulting, Landon Group, and Cuningham Architects, CEE joined this project to bring comfort and sustainability through energy efficiency and to ensure that this building marks the beginning of a long-lasting and sustainable home for members of the Tribe.

Named from an Ojibwe phrase meaning "living the good life," the Mino-bimaadiziwin apartment complex marks
 a starting point for the Tribe's renewal, holding its values of sustainability, efficiency, and community front and center for its residents. The complex is the Tribe's first development off the Red Lake Reservation — Tribal leaders chose south Minneapolis because many members live in the area and face significant challenges related to homelessness, substance use disorder, and other mental and physical health issues. "Many of us were displaced here through things such as relocation, such as boarding schools. And this trauma has hurt our people," explained Red Lake's Tribal Secretary Sam Strong. 

Building on the Tribe's sense of community, Mino-bimaadiziwin is funded through low-income tax credits as well as multiple public and private funders. This allows many options for rental assistance, including rent vouchers and supportive housing for those experiencing homelessness, allowing all willing tribe members to come together in this new space. "This development is the start of a path toward healing. It's the start of a path toward bringing our people back together," commented Strong.

To ensure that this path incorporated energy efficiency and upheld the Tribe's sustainable ideals, both CEE's new homes team and engineering department were recruited for the project. Our teams conducted energy 
testing for the apartment units and performed fundamental efficiency commissioning on the communal first floor, which includes the Wellness Center and the Red Lake Nation Embassy.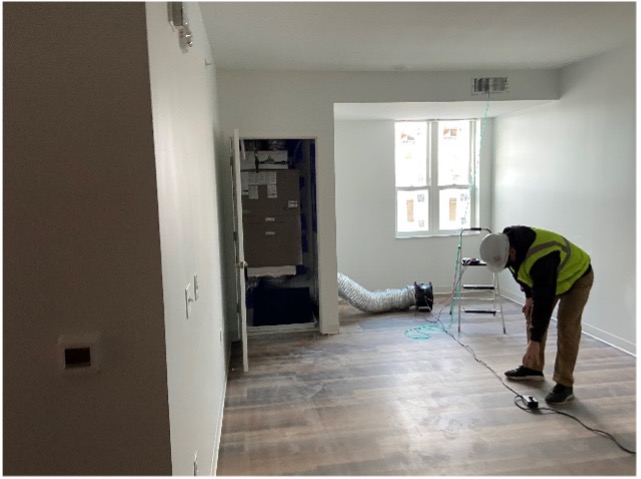 CEE's new homes team conducted energy testing including thermal enclosure inspections and blower door and duct leakage tests, aimed to evaluate the building's air tightness and insulation levels. This work helped the multifamily complex cost-effectively meet specific energy efficiency goals and requirements and requirements set by the Minnesota Housing Finance Agency and ensured each unit would be sustainable and comfortable. "We know from experience that every new apartment building has its own story to write, and it is our honor to partner with the Red Lake Band and Landon Group to help strengthen the energy efficiency story of Mino-bimaadiziwin," said CEE Quality Assurance Manager Phil Anderson.

The engineering team supervised construction to assess compliance with construction contract documents, documenting deficiencies discovered during air balancing and other functional performance tests. They also reviewed all ventilation equipment to ensure both alignment with the contract documents and that the first floor would retain efficiency during community use. "We always tailor our process to meet client goals, relying on their vision for the best results," said Mark Hancock, CEE's director of engineering. "For this project, CEE's building optimization expertise is well suited to help apply the Red Lake Band's commitment to community through safe, affordable, and energy efficient housing." CEE's engineering team helps building owners and managers better understand and optimize energy use to improve the operation of equipment and systems, reduce energy waste, and manage long-term sustainability planning — all of which are goals for the Mino-bimaadiziwin complex.

Creating these new homes with a vision of sustainability and a focus on efficiency was of the utmost importance to the Tribe. "Throughout the Tribe's history, natural resources have factored into both our economy and our survival," said Hunter Boldt, executive director of the Red Lake Band of Chippewa Indians. "In addition to cutting potential energy waste and costs, CEE's attention to efficiency underscores the importance of sustainability as a touchstone to the longstanding heritage of tribal members."

And with the official opening of the complex in December 2020, all partners and members of the Tribe were able to see these ideals of sustainability, efficiency, and community come to life. CEE is honored to have been a partner on this project, and we hope our energy expertise has been able to play a role in the Red Lake Band's path toward "living the good life."
Related Links
CEEM: Red Lake Solar Project, aspiring to energy sovereignty
Benefits of third-party building commissioning
Landon Group: Mino-bimaadiziwin Apartments