In the last week in April, the Minnesota Air Source Heat Pump (ASHP) Collaborative held 8 trainings across Minnesota for contractors. The trainings focused on the future of ASHPs in Minnesota, best practices for installing ASHPs, how the equipment works in our cold climate, and how the Inflation Reduction Act will play a role in accelerating their adoption. The ASHP Collaborative team traveled across Minnesota to hold these in-person trainings in Owatonna, Mankato, Willmar, Fergus Falls, Brainerd, Grand Rapids, Bemidji, and ending in the Twin Cities. At these trainings, the team spoke with 150 contractors, 90 companies, and dozens of utility and distributor representatives, providing education and resources on the future of ASHPs in Minnesota.
"One of the best ways to elevate a program is through direct interaction with contractors and stakeholders. This trip delivered. A chance to share best practices and, in turn, learn from the attendees about their primary needs and areas of excitement."
The goal of the ASHP Collaborative, formed by CEE in 2019 with the support of 8 Minnesota utilities, is to promote ASHP adoption across the state, especially in greater Minnesota where the technology can provide major savings for homeowners. With new cold-climate technology, ASHPs can operate down to -20°F and save homeowners 30-55% on heating costs. ASHPs particularly benefit homes currently using propane or electric heating, approximately 585,000 homes in Minnesota. Through these contractor trainings, the Collaborative's team was able to visit and train contractors in each region of greater Minnesota.
As another method for accelerating ASHP adoption, the ASHP Collaborative created the Preferred Contractor Network to connect homeowners seeking trusted contractors that can properly install an ASHP according to best practices in Minnesota. During the recent training, around 20 contractors began the process of joining the Preferred Contractor Network. The network currently has 16 contractors, covering 5 regions in Minnesota.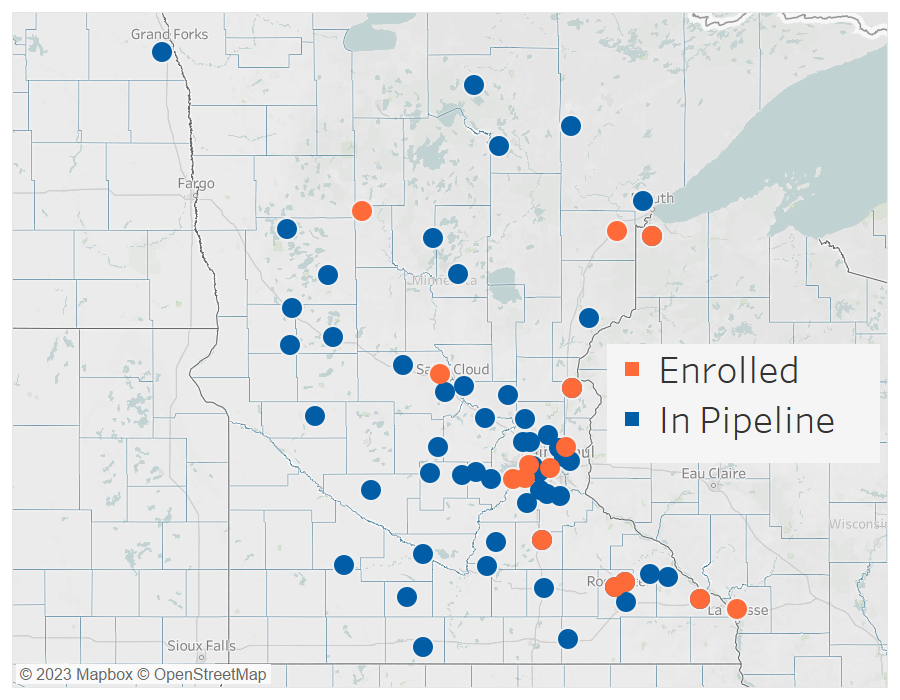 Providing quality education is key to promote ASHP adoption — getting out into communities is one of the best ways to do this. By traveling across Minnesota, the ASHP Collaborative team was able to share their knowledge while learning about the needs of contractors. Not only did this contractor training experience help educate more contractors about ASHP installation best practices in a cold climate, it also better equipped the ASHP Collaborative team to grow their impact as our state's energy needs and goals evolve.
Learn more about the ASHP Collaborative