Update: April 2023
This project is complete and the project team is currently finalizing a report on its findings. For a total of 34 residences in Minnesota and California, the aerosol sealing method produced an average leakage reduction of 47%. The major challenge in this method is protecting horizontal surfaces so that sealant cannot stick to them but can still reach all leakage paths. One promising technique to address this and other complications is to apply the sealant fog in the residence through the attic. Aerobarrier has modified sealing equipment to make this technique easier to implement. 
Overview
Existing houses are notoriously leaky with unintended airflow from outdoors that results in additional space heating and cooling equipment loads. Manual methods for sealing air leaks within a building, even when diligently applied, can fall short of the ultimate tightness goal due to unrecognized leakage pathways. Although voluntary standards (i.e., not legally mandated) for envelope tightness have existed for decades, they have only become codified recently, and they only apply to new construction, not existing residences.
The aerosol sealing process involves pressurizing the building while applying an aerosol sealant "fog" to the building interior (see below). As air escapes the building through leaks in the envelope, the sealant particles are carried to the leaks where they make contact and stick, sealing the leaks. A standard blower door fan is used to pressurize the house, and also provides real-time feedback and a permanent record of the sealing that occurred. The technology is, therefore, capable of simultaneously measuring, locating, and sealing leaks in a house.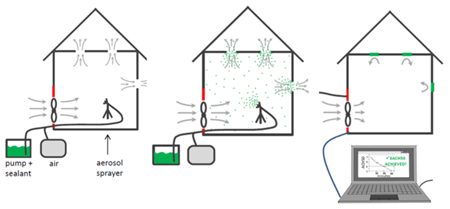 Findings of this project will be used to drive market transformation and develop a best practice guide for cost effective aerosol envelope sealing of unoccupied, existing homes and multifamily units.
Researchers will identify the best methods for aerosol envelope sealing of unoccupied, existing residences to improve tightness by 75 percent. Options will be evaluated for improved sealant formulations that are better suited to existing buildings, surface protection methods that allow successful sealing while limiting clean-up costs, inspection procedures to identify larger gap leaks the aerosol will not seal, alternative spray configurations (e.g. introducing spray in the attic with house depressurization), and possible approaches for sealing exterior duct leaks.
Project Summary
Objective
Develop a best practice guide for cost-effective aerosol envelope sealing of unoccupied, existing residences, to help increase envelope tightness by 75 percent.
Scope
Year 1: Field test new sealant on a total of eight homes in at least two states.
Year 2: Perform aerosol sealing on an additional 20 residences and develop a protocol for cost-effective air sealing.
Non-energy benefits
Improved occupant comfort
Improved indoor air quality
Less moisture damage